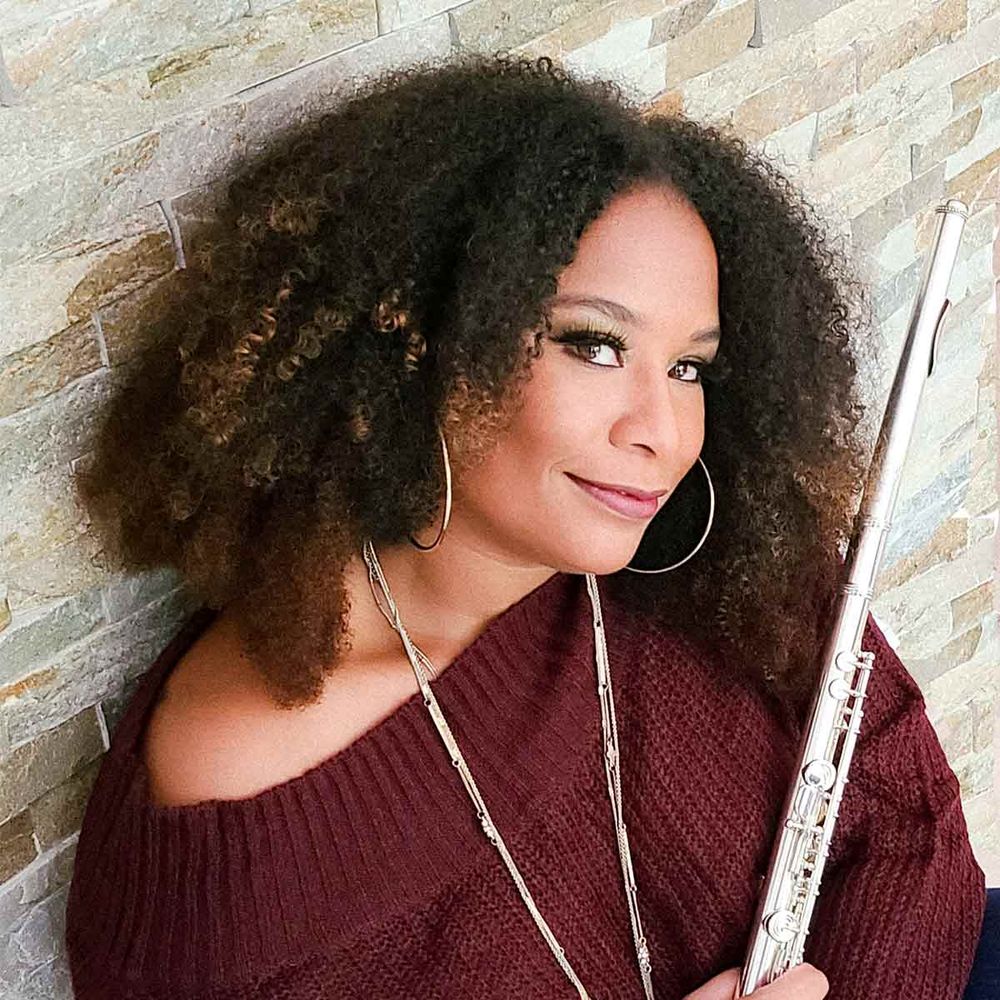 BIO
Flute-playing soul-jazz phenomenon Ragan Whiteside has become one of the genre's most consistently dynamic and popular artists. Thanks to her incredible skill and creativity on her chosen instrument, as well as her charismatic presence on stage, Whiteside is at the top of her game. That was demonstrated in October 2022, when she became the first artist to win the competitive Best Contemporary Jazz Artist Award at the inaugural Jazz Music Awards, held at the Cobb Energy Centre in Atlanta. Whiteside is also a 2023 NAACP Image Award Nominee and four-time nominee for the Smooth Jazz Network's Best Artist Award.
That distinction is well-deserved, as the Atlanta-based musician, songwriter, and vocalist has become one of very few women players to excel in the male-dominated instrumental sphere, garnering eight consecutive Top Ten Billboard airplay singles by 2022. And she's done it as an independent artist, releasing projects on Randis Music, the label she founded with her husband, producer, and composer Dennis Johnson.
Her most recent full-length project, 2022's Thrill Ride, is her sixth career album to date and it lives up to its title, demonstrating Whiteside's breathtaking virtuosity and melodic skills on a thrilling journey through a landscape of dynamic grooves. The project features eight songs, which are largely produced by her longtime collaborators Dennis Johnson and Bob Baldwin. Other producers include Chris "Big Dog" Davis on the sexy update of Stevie Wonder's "Don't You Worry Bout A Thing," and James Lloyd of the veteran group Pieces Of A Dream, who contributes "A Toast At Sunset" as writer and keyboardist as well.
Her third single from the project, "Full Court Press," is a smooth and sexy groove
co-written by Whiteside with the team of Johnson and Baldwin, who produced, and
featured guitarist Phil Hamilton and drummer Rich Harrison, also known as the artist
RAH.
Whiteside's previous single was the title track, "Thrill Ride," which was also written and produced by Johnson, Baldwin, and Whiteside, and features guitarist Hamilton and drummer RAH. The single peaked at No. 1 on five radio charts, including the Billboard Smooth Jazz Chart, Mediabase, the Smooth Jazz Network, Radiowave and Groove Jazz Music. Her previous single from the set, "Off The Cuff," not only peaked at
 
 
No. 7 on the Billboard Smooth Jazz Airplay chart, where it spent 17 weeks, but it also earned her the Jazz Music Awards nomination that she ultimately won.
In addition to her projects, Whiteside has been a busy collaborator. Over the last two years, the native New Yorker also charted at No. 1 on the Billboard Smooth Jazz Airplay chart for her collaboration with Kim Scott's 2022 remake of Ashford & Simpson's 1978 mega-hit, "I'm Every Woman" along with Althea René, which peaked at No. 1 on the Billboard Smooth Jazz chart. Whiteside also co-wrote Bob Baldwin's top-charting hit, "B Positive," with production partners Dennis Johnson and Baldwin. Additionally, she is featured on "This Time Around" with contemporary jazz artist Jarez, from his latest project, J Funk City. In 2022, she appeared on two tracks, "Seven Eight" and "Solo," on veteran jazz drummer Billy Cobham's new album, Drum'N'Voice Vol. 5.
Whiteside has continued to delight fans and critics alike with her engaging, upbeat melodies and exhilarating flute playing. Tunes like "Thrill Ride," "Off The Cuff," "JJ's Strut," "Reminiscing," "Jam It," "Early Arrival," "See You At The Get Down," a nd the Billboard No. 1 "Corey's Bop" have burnished her reputation. But while Whiteside has made her mark fusing inspired flute melodies and breathtaking solos with hip upbeat grooves, she gained her musical acumen by training as a classical flutist.
Originally from Mount Vernon, New York, Whiteside played drums, piano, and violin in elementary school before a desire to be in the marching band put the flute in her hand at age 8. "They had this thing called Band Day where all the public schools would march in a parade through Mount Vernon. I said, 'Oh. I need to be in this parade.'" There were no violins in the marching band, so Whiteside was offered the flute. "I did not want to play the flute. And it took me about a week to get a sound out of it," she says.
But once young Whiteside locked onto the instrument, she immediately focused on
what kind of music she wanted to play but was steered into a more traditional path.
"My parents got me a private teacher. I said to my teacher, 'Okay, I want to do jazz.' And he was like, 'No, you're going to play classical,'" Whiteside recalls. "'I don't want to play classical.' 'Well, you can play jazz later, but you need to get your foundation in classical music.' Once again, I was being forced into something, but I started playing and I started getting good at it, and I started to like it."
The young flute player got good and got serious. She participated in Mount Vernon High School's Historically Black Colleges and Universities (HBCU -influenced marching bands), entered multiple musical competitions – some with cash prizes – and won. Members of the National Association of Negro Musicians mentored her, many of whom held positions as opera singers, orchestrators, music directors, and instrumentalists in classical music at a time when African Americans were still not often included. She also participated in the NAACP's ACT-SO (Academic, Cultural, Technological, and Scientific Olympics) competitions for young people, where she won both regional and national titles in two different years. With these distinctions under her belt, Whiteside went on
 
 
to the Cleveland Conservatory of Music, where she was one of just six African American students. When she transferred to the highly competitive HARID Conservatory in Boca Raton, Florida, she discovered she was now the only one.
After receiving so much encouragement and mentoring during her high school years,
this was a culture shock. "I was on my own, there was no support, there was nobody I
could go and talk to," Whiteside explains. "On top of that, just being in a classical
conservatory, it's cutthroat, it's competitive, it's hardcore. A lot is expected of you, and
everybody's trying to go after the same five or six openings." The pressure to perform was intense and her motivation for that life started to wane. During her senior year-end
performance, for which she was to play a well-rehearsed, 20-minute flute concerto,
Whiteside went blank halfway through. Offered the opportunity to start again,
Whiteside realized she was at a turning point and instead walked out.
Influenced by such diverse flute masters as jazz-classical player Hubert Laws, the late Latin jazz artist Dave Valentin, and the French classical flutist Jean-Pierre Rampal, Whiteside received rigorous musical training that prepared her to play in the most prestigious symphony orchestras in the world, but after graduation, Whiteside admits she wasn't sure what she wanted to do. Back home in Mount Vernon, she attended a show at a local jazz club where keyboardist, producer, and composer Bob Baldwin was headlining. While watching, Whiteside says she had an epiphany: "I was sitting up front and I said, 'Oh my God. This is what I want to do.' "
After the show, she introduced herself to Baldwin. "I told him, 'Look I'm a classical
musician but I want to make the transition to jazz. Do you have any advice for me? And we talked for a while and he pretty much took me under his wing, right then and there," Whiteside explains. "And two days later, I went to a studio in Yonkers, and it turned into my first non-classical studio session." Whiteside performed a Stevie Wonder tune for Baldwin and studio owner Dennis Johnson, who later became her husband. "I played a Stevie Wonder tune, and they're like, 'Hey, we need some flute on this jingle for [New York smooth jazz station] CD 101.9.' And I did that, and from there Bob was taught me how to make that transition from classical to jazz, and Dennis showed me the ins and outs of audio recording and using computers to compose music." Since then, Johnson and Baldwin have become Whiteside's frequent songwriting collaborators.
Whiteside instantly began her successful foray into the contemporary soul-jazz sphere. After launching the Randis Music label in 2007 with her husband Johnson, she collaborated with Johnson and Baldwin again on her 2007 release Class Axe,
2012's Evolve, 2014's Quantum Drive, 2017's Treblemaker, and 2020's five-track
EP Five Up Top. She also teamed with popular saxophonist Kim Waters for the 2017 release Early Arrival. She has collaborated on tracks with several artists including Marion Meadows, Patrice Rushen, Tom Brown, Walter Beasley, Melba Moore, Chieli Minucci, Frank McComb, and others. She has also been a popular performer at the Berks Jazz Fest, the Seabreeze Jazz Festival, the Mallorca Smooth Jazz Festival in Spain, and the Capital Jazz Super Cruise.
Meanwhile, Whiteside and her husband Dennis Johnson made the jump from New
York to Atlanta when it became clear that Atlanta offered a more attractive lifestyle.
Further, digital technology has made it easy to produce and distribute music from
anywhere. "Atlanta is like a hub," Whiteside explains. "You can get to so many different
places relatively quickly from Atlanta. For the first time, we were able to get to New Orleans, Nashville, Houston, the Carolinas, and all over Florida without having to fly, and every place we went, we experienced new musical influences."
Whiteside has also maintained a career as a tech consultant and her role as a mother of two. In late 2020, Whiteside added another title to her list of accomplishments: Radio personality. Spotted at a show by David Linton, a former label executive and current program director of Atlanta's station, Jazz 91.9 WCLK, Whiteside was offered the opportunity to audition as a host. She now holds down the popular No. 1 Saturday morning show "Saturday with Ragan Whiteside, " another role she has grown to enjoy .
With so many professional balls to juggle, and the concert industry opening back up, Ragan Whiteside can lay claim to life as a contemporary jazz star as one big "Thrill Ride."