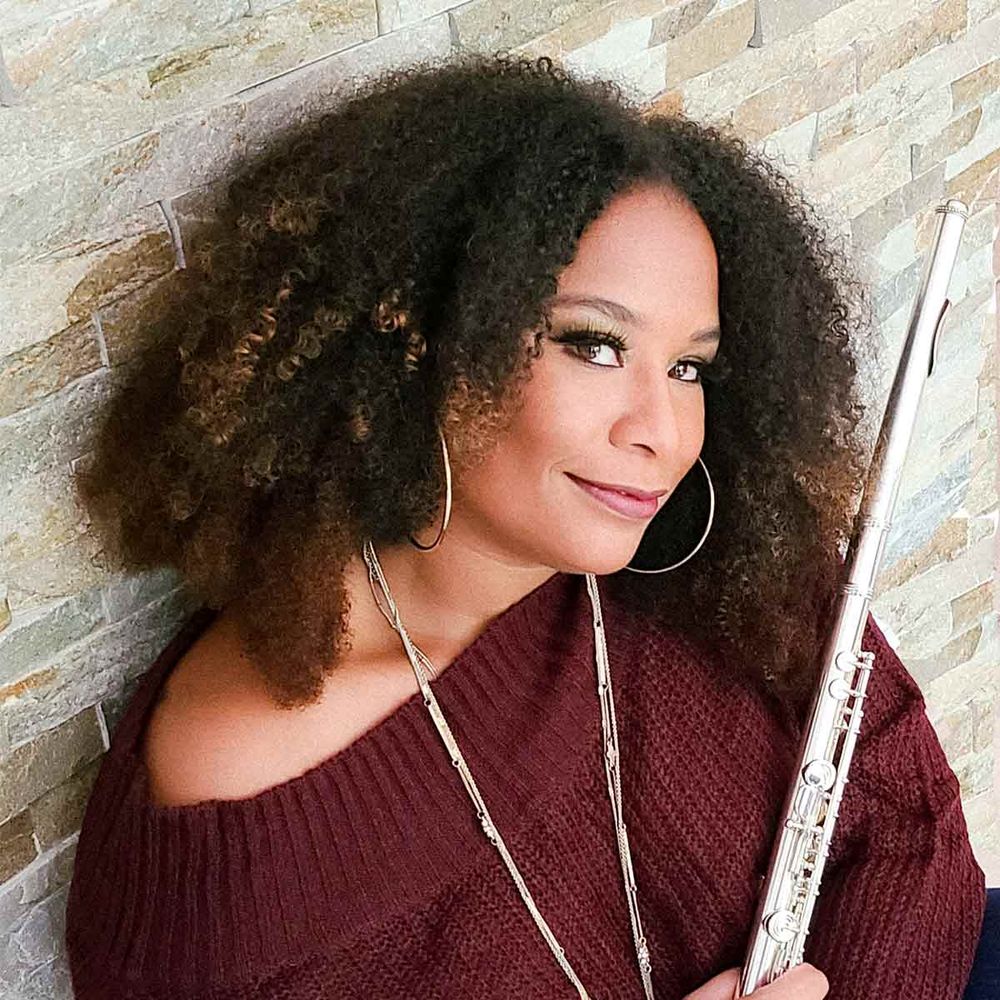 BIO
It takes skill, creativity, sheer musical ability, and a charismatic presence to electrify the music scene. And that's just what flautist Ragan Whiteside has done in the world of instrumental soul within a few short years. The Atlanta-based musician, songwriter, and vocalist has consistently delighted fans and critics alike with her unique brand of engaging upbeat melodies and exhilarating flute playing. Tunes like the May 2021 single release "Off The Cuff," as well as "JJ's Strut," "Reminiscing," "Jam It," "Early Arrival," "See You At The Get Down," and the Billboard No. 1 "Corey's Bop," have burnished her reputation. What's more, Whiteside has become one of few women players to excel in the male-dominated instrumental sphere, garnering six consecutive Top Ten Billboard airplay singles by 2021. And she's done it as an independent, releasing projects on Randis Music, the label she founded with her husband, producer, and composer Dennis Johnson.
 
Whiteside gained her musical acumen by training as a classical flautist. Originally from Mt. Vernon, New York, Whiteside got her first taste of music in elementary school, playing drums, piano, and violin before a desire to be in the marching band put the flute in her hand at age 8.  "I did not want to play the flute. And it took me about a week to get a sound out of it," she says. But once young Ragan locked onto the instrument, she got good and got serious. 
She participated in Mount Vernon High School's HBCU-influenced marching bands, entered multiple musical competitions – some with cash prizes – and won. She was mentored by members of the National Association of Negro Musicians, many of whom held positions as opera singers, music directors, and instrumentalists in classical music at a time when African Americans were still not often included.  She also participated in the NAACP's ACT-SO (Academic, Cultural, Technological, and Scientific Olympics) competitions for young people, where she won both regional and national titles in two different years.  Whiteside went on to the Cleveland Institute of Music but soon found that it was not a good fit. Instead, she transferred to the highly competitive HARID Conservatory in Boca Raton, Florida, where she was the only African American in her class. The pressure to perform well was intense. "I realized that to endure that type of pressure, your heart has to be in it … and my heart was someplace else. I wasn't sure where, but I was determined to find out." 
 
Influenced by such diverse flute masters as jazz-classical player Hubert Laws, the late Latin jazz artist Dave Valentin, and the French classical flautist Jean-Pierre Rampal, Whiteside's rigorous musical training prepared her to play in the most prestigious symphony orchestras in the world. Yet, after graduation, Whiteside admits she wasn't sure what she wanted to do. Back home in Mount Vernon, she attended a show at a local jazz club where keyboardist, producer, and composer Bob Baldwin was headlining. While watching, Whiteside says she had an epiphany: "I was sitting up front and I said, 'Oh my God. This is what I want to do.'"
 
After the show, she introduced herself to Baldwin. "I told him, 'Look I'm a classical musician but I want to make the transition to jazz. Will you help me? And he pretty much took me under his wing, right then and there," Whiteside explains. "And two days later, I went to a studio in Yonkers, and it was my first non-classical studio session." Whiteside performed a Stevie Wonder tune for Baldwin and studio owner Dennis Johnson, who later became her husband. "That's how we met," Whiteside adds. "I played a Stevie Wonder tune, and they were like, 'Hey, we need some flute on this jingle for [New York smooth jazz station] CD 101.9.' And I did that, and from there Bob was teaching me how to make that transition from classical to jazz, and Dennis taught me all about audio engineering and making music with computers."  Since then, Johnson and Baldwin have become Whiteside's frequent songwriting collaborators.
 
Whiteside soon began her successful foray into the contemporary soul-jazz sphere. After launching the Randis Music label in 2007 with her husband Johnson, she collaborated with Johnson and Baldwin again on her 2007 release Class Axe, 2012's Evolve, 2014's Quantum Drive, 2017's Treblemaker, and 2020's five-track EP Five Up Top. She also teamed with popular saxophonist Kim Waters for the 2017 release Early Arrival. She has collaborated on tracks with Marion Meadows, Patrice Rushen, Tom Browne, Melba Moore, Chieli Minucci, Frank McComb, and others. She has also performed at the Berks Jazz Fest, the Seabreeze Jazz Festival, the Mallorca Smooth Jazz Festival in Spain, and the Capital Jazz Super Cruise.
 
In late 2020, Whiteside added another title to her list of accomplishments: Radio personality. Whiteside now holds down the popular Saturday morning time slot on Atlanta's Jazz Station WCLK 91.9, another role she has grown to enjoy.  "I like learning about the other side of radio that musicians typically don't see or know about. And it's cool. I dig it," she says.
 
Though the COVID-19 pandemic slowed down or halted live performing for the better part of a year, more opportunities loom as the country reopens in mid-2021. Whiteside has stayed busy recording and being a mom to two children, aged 5 and 3. She is currently putting the finishing touches on her next album, due in 2022. Becoming a jazz artist of note is the fulfillment of a childhood goal, and Whiteside is just getting started.